---
The dates are final, the art is done and the talent is out of this world!
Beginning at the end of September and spanning two weekends, this iconic comedy festival brings some of Seattle's most amazing sketch comedy talent together with other creative performers from around the country to provide one of the most exciting, provocative, hilarious and downright uproarious sketch, video and stand-up comedy to Seattle audiences.
---
Schedule
Friday, September 28

LOCAL SHOWCASE
Annex Theatre

---

7pm – Buy Tickets!

Saturday, September 29

COMEDY FILM FESTIVAL
Central Cinema

---

7pm – Buy Tickets!

The 5th Annual SketchFest™ Seattle Film Challenge gets its due this year with a whole night of the festival devoted to film. Come to the Central Cinema, have a beer, some dinner, and view the funniest in independent comedy film. Hosted by Ben Laurance with judges Luke Burbank, Brendan Kiley, and Danielle Radford. Plus! A set by northwest powerhouse sketch group Charles!
---
Performer Bios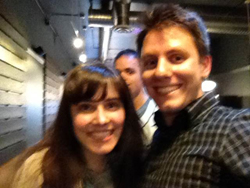 Andy and Barbara (Seattle, WA)
Friday, 9/28 – 7pm
Andy and Barbara are a funny, smart, idiosyncratic Seattle based sketch duo. They are nice people. Follow them on twitter @barbara_holm and @andipalmur.
---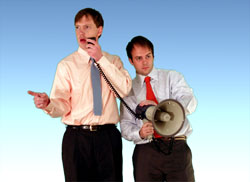 Charles (Seattle, WA)
Friday, 9/28 – 7pm / Saturday, 9/29 – 7pm / Thursday, 10/04 – 7pm
Charles has performed throughout the US and Canada, including the San Francisco, Seattle, Chicago, and Toronto Sketchfests; the Los Angeles Comedy Festival; the People's Improv Theater New York; and the Toronto and Victoria Fringe Festivals. Winners of "Best Writing" and "Best Sketch Comedy" at the 2012 LA Comedy Festival, the Stranger dubbed Charles as "One of the most inspired and inspiring chunks of comedy produced all year."
---
Cody Rivers Show (Bellingham, WA)
Thursday, 10/04 – 7pm
The much-acclaimed comedy duo is making a triumphant return from their year-long hiatus and is ready to take the Seattle sketch scene by storm once again. The Cody Rivers Show creates kinetic and unpredictable comedy theater that has amazed audiences and defied description for the past eight years. Their airtight performances, where-did-that-come-from concepts, and infectious exuberance have won them multiple awards in festivals across the US and Canada. Their completely new show will make its Seattle premier at SketchFest™ Seattle 2012.
---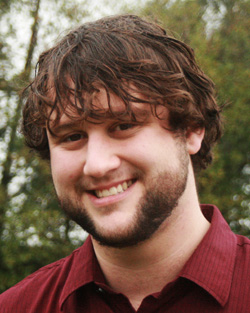 Mike Coletta (Seattle, WA)
Stand-up, Friday, 10/05 – 7pm
Mike Coletta is a Seattle based comedian originally from Alaska. He connects with audiences through his energetic delivery, quick wit and somewhat tweaky demeanor. Stories of his family life, growing up in Alaska, and love of nerd culture drive his stand-up. Coletta was a finalist in the Make Jack Laugh Comedy Competition, Portland Comedy Contest, and recently performed at Emerald City Comicon.
---
Dog Watson's Hoot Suppository (Seattle, WA)
Friday, 9/28 – 7pm
Dog Watson's Hoot Suppository is a one hour collage of stand up, sketch comedy, art, music, and comedic crafting. Hosted by Birdie (Jessica Strauss), and Heathcliff (Devin Badoo), along with contributing special guests, this show serves as an adult outreach program for at-risk inner-city adults like you, where the ails of adulthood are cured through comedy and craft.
---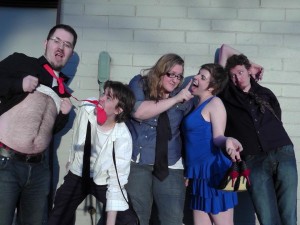 Drop the Root Beer and Run (Seattle, WA)
Friday, 9/28 – 7pm / Friday, 10/05 – 7pm
Drop The Root Beer And Run is a sketch/improv troupe based out of Seattle, WA. It was formed by alumni from the The Evergreen State College's comedy collective known as "Generation Friends" Since it's formation in 2011, DTRBAR has performed in Seattle Sketchfest, The Seattle Fesitval of Improv Theatre, Improlymia, and The LA Improv Festival.
---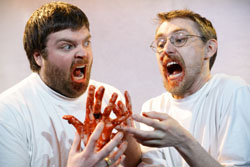 The Entertainment Show (Seattle, WA)
Friday, 9/28 – 7pm / Friday, 10/05 – 9pm
The Entertainment Show is Kevin Clarke and Travis Vogt–Stranger Genius Award-Nominated filmmakers/sketch comedians, and creators of the epic sci-fi feature film Steel Of Fire Warriors: 2010 AD, the six-part mini-series Adventure Buddies and countless laugh-inducing short films and mind-bending live sketches.
---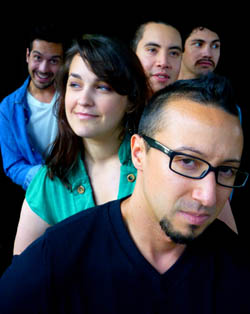 Fresh Grounds (Seattle, WA)
Friday, 9/28 – 7pm
Fresh Grounds is a collective of the best artistic talent in Seattle. With a focus on bringing sketch comedy back to the forefront of Seattle entertainment, Fresh Grounds features the best in local music, film and performances unique to our culture & sensibility.
---
Generation Friends (Olympia, WA)
Friday, 9/28 – 7pm
Generation Friends is a student group at The Evergreen State College that controls the comedy market on campus. They are a SUPER-GROUP comprised, much like the US Government, of three branches – Sketch, Improv, and Stand-Up. Together, all three branches combine into a wildly uneven tree that bears only the fruit of love.
---
Kate Jaeger (Seattle, WA)
Host, Saturday, 10/06
Kate Jaeger is very active in the Seattle theatre community as an actor, director, emcee and educator.  Kate splits her time between improv, musical theatre and scripted work as well as spending time both on stage and behind the scenes.  She is a proud company member of Jet City Improv.
---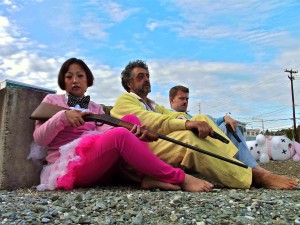 Le Frenchword (Seattle, WA)
Friday, 9/28 – 7pm / Saturday, 10/06 – 7pm
The Seattle-based absurdist trio Le Frenchword was most recently seen at Annex Theatre, Re-bar and Erickson Theatre Off Broadway in Seattle. Dive into a rabbit hole of its original show "Fancy Mud" to experience black holes, California Cute Cult, The Three-Legged-Dying-Cow of All Creation and uncover the origin of the universe.
---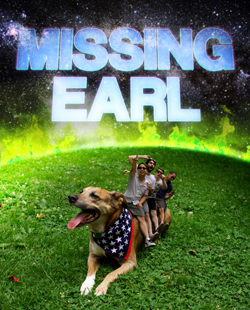 Missing Earl (New York, NY)
Friday, 10/05 – 7pm
Missing Earl uses everyday objects, like trash can lids and cardboard for breakdancing to create a sonic landscape and visual cornucopia that's pure, "stomp"-ing fun.  In real life, they perform sketch comedy about unstoppably horny dads, Tiger thieves and everyday Bruce Springsteens, using tools like raps and jokes. Fiercely unique, occasionally dark, and unabashedly stupid, Missing Earl will make you laugh, ponder your existence and empathize with America's lost police officers and office workers.
---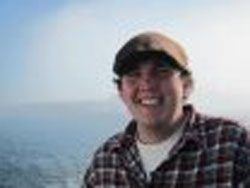 Sean Murphy (Seattle, WA)
Friday, 10/05 – 9pm
His name is Sean; he likes jokes and telling them to people. Come be one of those people!
---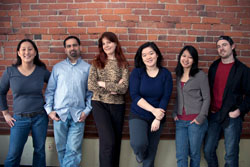 Pork-Filled Players (Seattle, WA)
Friday, 9/28 – 7pm
The Pork Filled Players is the longest running sketch comedy group in Seattle, featuring an awesome majority of female writers and performers and reinventing Asian-American comedy with their unique brand of nerdish humor, maximum tongue-in-cheekiness, and an Amazing Kung-Fu Grip™!
---
Ryan Schmidt (Seattle, WA)
Host, Friday, 10/05 – 7pm
Local actor and comedian Ryan Schmidt is a member of Jet City Improv and local sketch comedy juggernaut Ubiquitous They. Right now you can catch him on the TV as the Seattle/Portland Correspondent for Ryan Seacrest Productions' new show AXS Live on Marc Cuban's AXS TV Network. Schmidt is a huge fan and supporter of local sketch comedy and is excited to be hosting Sketchfest Seattle 2012.
---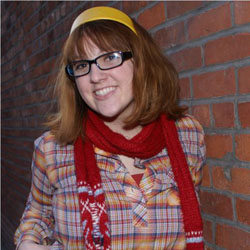 Jen Seaman (Seattle, WA)
Stand-up, Saturday, 10/06 – 7pm
Jen Seaman was raised in a small military island town in the Northwest. Seaman is a quirky, Velma/Daphne looking geek (not dork) from Seattle. She is a stand-up comedian who has performed at Bumbershoot, Bridgetown, Seattle Weekly's ReverbFest & Artopia. She recently made her television debut on Comedy Central's Atom TV alongside Kyle Cease in their viral hit video, "BP Apology: Outtakes." She was also a judge favorite on Season 6 of America's Got Talent.
---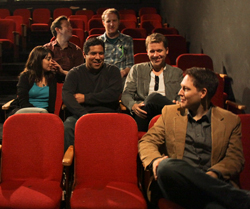 Stag (Austin, TX)
Saturday, 10/06 – 9pm
Stag Comedy is a high-energy sketch group, bringing together their love of dumb people, dumb problems, and smart comedy. The Huffington Post described Stag as "One of Austin's most accomplished groups, Stag blends witty, weird sketch and video, with an aesthetic that's half Tim and Eric, half The State, and always awesome."
---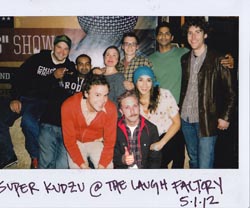 Super Kudzu (Los Angeles, CA)
Friday, 10/05 – 9pm
Super Kudzu consists of nine different people with unique sensibilities all pointed toward the same goal: smart dumb cerebral silly sketch comedy. They're a house sketch team at iO West, formed through the first generation of their house sketch team program. They have also performed several other venues around Los Angeles, most notably in the very first (and last) sketch comedy show at the Laugh Factory in Hollywood and the Los Angeles Improv Comedy Festival in early 2012.
---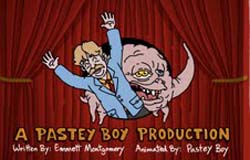 Sweet Pea (Seattle, WA)
Friday, 9/28 – 7pm
Sweetpea is quite possibly the best monster taming sketch act in the Pacific Northwest, comedian Emmett Montgomery and animator Mark Allender pay tribute to animation pioneer Winsor Mckay's Gertie the Dinosaur by bringing a hideous cartoon beast to life on stage. Sometimes it gets gross…
---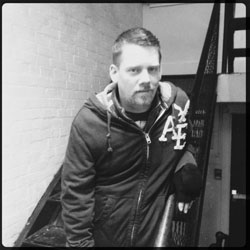 Rick Taylor (Seattle, WA)
Stand-up, Saturday, 10/06 – 9pm
After 20+ years in the broadcast industry, Rick Taylor decided to take to the stand-up stage and hasn't been able to stop since. Rick performs, and is on the production/promotion teams at popular working comedy rooms like Punchline Fridays at Jai Thai. Rick has also had great success producing his own monthly comedy shows featuring Seattle's best local comedic talent including Candy Basket Comedy Showcase at The Capitol Club.
---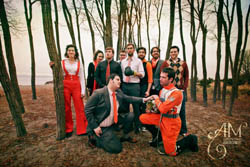 Ubiquitous They (Seattle, WA)
Friday, 9/28 – 7pm
Ubiquitous They have performed at Bumbershoot, San Francisco Sketchfest, and Seattle SketchFest™. Spike and Jason have performed at Emily's house! Do you know Emily? She has a waffle maker.
---
Clayton Weller (Seattle, WA)
Host, Thursday, 10/04 – 7pm / Friday, 10/05 – 9pm
In the 4 years that Clayton Weller has lived in Seattle he has weaseled his way into the Seattle comedy scene with vigor. He's a member of Ubiquitous They Sketch Comedy, was in the successful late night Catholic Farce, Penguins, at Annex Theatre, created a monthly multi-media arts showcase called whizARTbang!, and for the last two years has been the artistic director at SketchFest™. He was trained in arts marketing at ACT theatre, and for the past 8 months has been building a tech business, Freak'n Genius, with the mission of making it so anyone can animate. He loves Sketch Comedy more than he probably should.
---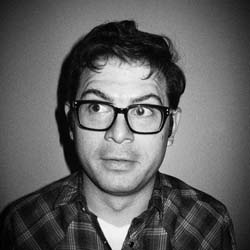 Joe Wengert (Los Angeles, CA)
Saturday, 10/06 – 7pm
Joe does one man character monologues in the style of Bob Newhart that start off in a real place but aim to get weird. He has performed at UCB Theater (NY & LA), SXSW, Bridgetown Comedy Festival, Piccolo Spoleto Festival (Charleston, South Carolina). His one-man show Stages of Adulthood had a four month run at the UCB in Los Angeles and showcases Joe's superior character acting skills.
---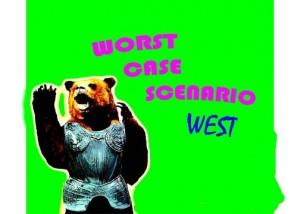 Worst Case Scenario (Seattle, WA)
Friday, 9/28 – 7pm
Worst Case Scenario performs its fast-paced, action-packed comedy in Seattle, Washington. Our promise to our audience is to consistently perform the most challenging and hilarious comedy that our bodies and minds will allow. We will dive head first into themes and formats that should, by all rights, be very difficult, if not impossible.
---