The dust has settled, the laughs have finally died down, and for six months or so the SketchFest staff will return to the abandoned mine shaft on Old Man Tuttle's property to cuddle pile through the winter. But before we go, we wanted to take a minute to acknowledge some of our very favorite moments from this year's SketchFest with prestigious awards:
They came from Montreal with two suits, a Seinfeld bass line, and a plan. They burrowed into our hearts with a hilarious off the cuff set of friendship-based comedy and legal office shenanigans. Chris and Daniel, you were an absolute joy.
---
Favorite Local Performers – Day Job
The gals of Day Job never disappoint, but they brought the FIRE this year to their set at the Comedy Film Challenge. We literally had tears of laughter at their Cats-inspired opening, Kara's 36-year-old lament, and the best improvising around a broken prop tambourine ever seen on stage.
---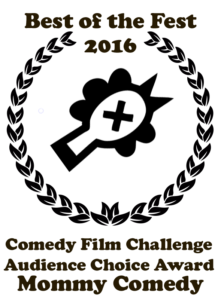 Film Challenge Judges' Award AND Audience Choice Award – Mommy Comedy
I'm not sure if we've ever had a video entertain the judges AND our audience so thoroughly, but Mommy Comedy's hilarious "Behind the Scenes" was the universal favorite at this year's Comedy Film Challenge. Bonus points for however they managed to put up with that incessant beeping from a Toyota in reverse.
---

Favorite New Group – Villains
Villains exploded on the scene this summer and might be the "youngest" sketch group to ever headline the festival, but they showed they belonged with a frenetic and fantastic performance to kick off our mainstage shows. We'll never look at wisdom tooth removal—or Linkin Park—the same way again.
---
If you happened to be outside the Pocket Theater wondering why everyone exiting was quietly saying "Wooooow," to themselves and giggling, blame these guys. Everyone's favorite Ursine improvisers' first foray into sketch comedy has only made us want to see more.
---
Favorite Musical Number – "Not Like Other Girls" by Love Snack
It was really hard to pick one favorite musical number just from this show, let alone the awesome stuff we saw from other groups like HUNKS' "Three Dogs in a Trench Coat Sing the Hits." Love Snack's special blend of laughs, pathos, and feminist mysticism won our hearts forever.
---
And that's all from SketchFest Seattle! We had a legitimately hard time picking just one favorite in these categories, but our original plan of "let's just give 15 awards because everyone was so awesome" somehow seemed less special. Congratulations and thank you to all the amazing performers and audience members who made this year so great!
See you next September!