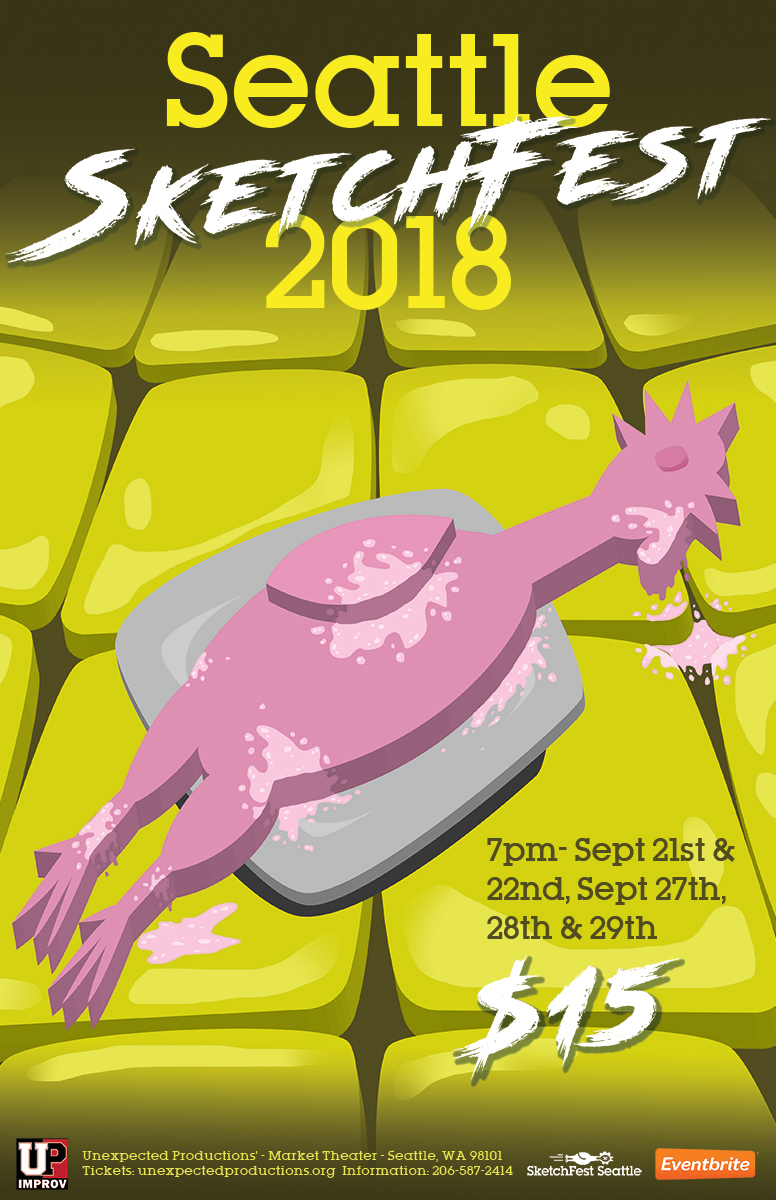 SketchFest Seattle, the world's ORIGINAL sketch comedy festival, comes roaring back with a brand new festival for 2018 at our new home at Unexpected Productions!
Every year, SketchFest Seattle brings together the most talented and hilarious comedians we can find from across the globe, pair them with the best and brightest already KILLING it in town, to curate the most magical laugh-a-minute fest in the Northwest.
All shows $12 – $15 at Unexpected Productions at the Market Theater: 1428 Post Alley (map)
---
Schedule
---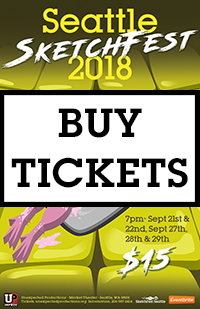 Friday, September 21 | 7:00 pm
Featuring:
• Sleepover
• The Maple Daddies
---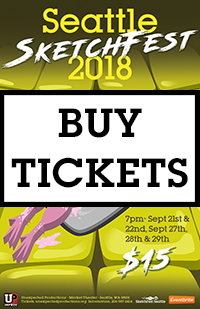 Friday, September 21 | 8:30 pm
Featuring:
• Your Cousins
• Darrin Schultz
---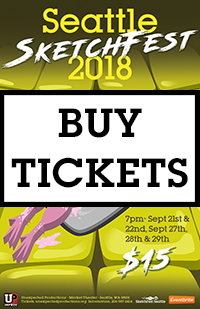 Saturday, September 22 | 7:00 pm
Featuring:
• Sleepover
• Drop the Root Beer and Run
---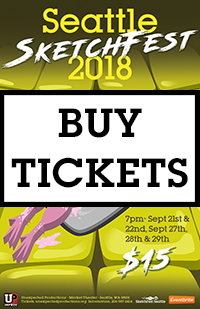 Saturday, September 22 | 8:30 pm
Featuring:
• Sober Virgin
• Mad Gravity
---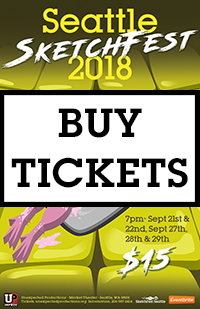 Thursday, September 27 | 8:30 pm
Featuring:
• Darrin Schultz
• The Maple Daddies
• Mad Gravity
---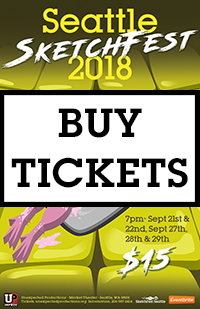 Friday, September 28 | 7:00 pm
Featuring:
• Diane
• Not Oasis
---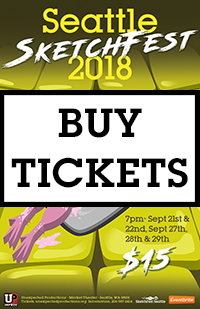 Friday, September 28 | 8:30 pm
Featuring:
• Day Job
• Pure & Weary
---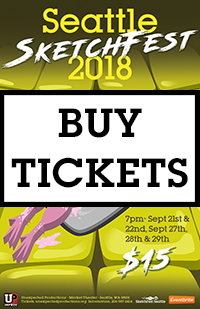 Friday, September 28 | 10:30 pm
A special "Industry Night" performance featuring sketches deemed "too weird, too outrageous, too normal, or just too…something…" from many participating groups, including Diane, Pure and Weary, Not Oasis, Mad Gravity, Doesn't Even Rhyme, D&D, Smat!, Darrin Schultz, Your Cousins, and possibly more!
---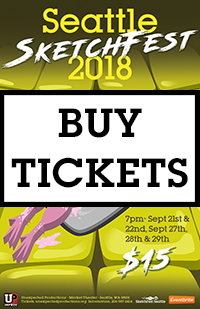 Saturday, September 29 | 7:00 pm
Featuring:
• Doesn't Even Rhyme
• D&D
---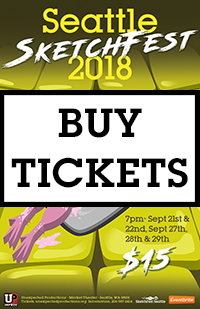 Saturday, September 29 | 8:30 pm
Featuring:
• Smat!
• Not Oasis
---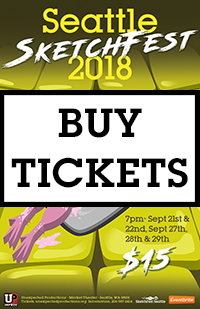 Saturday, September 29 | 10:30 pm
Special BEST OF THE FEST show, with sketches picked by the SketchFest staff of the festival's best sketches. Can't come to every show? Well this is the tl:dr for you!
---
Performer Bios
---
Sketch comedy duo D&D (David Wester and David Burnett) use wit and formal inventiveness to probe the mysteries of the unknown—the universe, the psyche, and the absurdity of masculinity. Having never lived up to their fathers' standards of lawn care, the Davids began their collaboration in 2016, and have quickly become favorites at the Siren Theater in Portland, OR and the Portland Sketch Comedy Festival. They've been described as "smart and strange," and "if Neil deGrasse Tyson and Jason Bateman were in a sketch comedy duo together, they would be D&D."
---
Darrin Schultz
Friday, 9/21 | 8:30pm
Thursday, 9/27 | 8:30pm
Darrin prepares around nine varying sketches or bits, and lets the audience members choose which ones they want to see based on keywords (e.g., Beef, Roxanne, Alaska) visible on an easel tablet on stage, making a unique sketch show for that particular audience. The sketch options cover varying topics, such as; being set to music, drinking milk on stage, reciting a disgusting recipe, character monologues, and a geography lesson.
---
Day Job has been making audiences pee a tiny bit in their pants from uncontrollable laughter since the summer of 2014. They are known for their use of physicality, music, dancing, and heartwarmingly bizarre interactions. They have performed at Chicago Women's Funny Festival, Macefield Musical Festival, Portland Sketchfest, and have headlined SketchFest Seattle for three years in a row. Locally, they've performed at the Pocket Theatre, the Comedy Underground, the Comedy Womb, Annex Theatre, The Rendezvous, Outcast Productions, the Ballard Underground, and most notably, the food court at Seattle Center. They've been featured in Seattle Arts Magazine and Seattle Gay Scene, and on Art Zone on The Seattle Channel… And one time they were mentioned at a party. Come take a delightfully weird journey with Seattle's favorite bandana wearing comedians as they tickle your funniest bone. "You do not want to miss this!" -said Everyone Ever.
---
Meet Diane. Diane shops exclusively at Pier 1. Diane wears ribbed cream-colored turtlenecks. Diane lounges on the beach with a Grey Goose and tonic and a good read. Diane buys vacation perfumes to remember times abroad. Diane is trapped in a well. Diane is very pleased to make your acquaintance and reminds you: Live, laugh, Diane.
Diane was forged through the Sketch Summit Seattle program in April 2018 and is made of local, organic, cage-free, free-range performers.
---
Doesn't Even Rhyme
Friday, 9/28 | 8:30pm
Doesn't Even Rhyme is the poetic masterpiece of Mike Kumar, Erica McIntyre, and Kevin McVey. You might know them from their improv shows with Yeah Okay, Ten Percent Luck, Captain, Lowbrow, ComedySportz, and Rock Bottom whose performances are decidedly less rehearsed.
---
Drop the Root Beer and Run
Saturday, 9/22 | 7:00pm
Drop The Root Beer And Run has been peddling it's bizarre absurdity to the Seattle comedy scene since 2011 and has performed in SketchFest Seattle, Improlympia, LA Improv Fest, The Chicago Sketch Comedy Festival, Bumbershoot and Vancouver Sketchfest. Featuring members from Love Snack, Smat and Street Trash, DTRBAR is celebration of dark whimsy that will crawl inside your heart and lay eggs.
---
Mad Gravity
Saturday, 9/22 | 8:30pm
Thursday, 9/27 | 8:30pm
Kayla Teel and Matthew Joseph met while studying theater at Central Connecticut State University and were featured in many plays and improv shows together. They discovered similar interests in both filmmaking and sketch comedy and five years later found themselves living together in Seattle and continuing to produce comedy content. Matthew is now a studio manager at Victory Studios and Kayla is a performer and teaching artist at Jet City Improv. Together they were featured at The Pocket Theater for Sketch Month 2017, Sketchfest Seattle 2017, their hour-long show "Will There Be Blood?!" in November, and were back again this year for Sketch Month 2018.
---
The Maple Daddies
Friday, 9/21 | 7:00pm
Thursday, 9/27 | 8:30pm
The Maple Daddies is a group of sticky sketch performers formed here in Seattle as part of Sketch Month's Sketch Summit. They have performed twice in SketchFest Fund Fight, winning in 2017. They have performed as a headlining act in 2017 Seattle SketchFest, produced and headlined "Daddy's Stache", a benefit show at The Pocket Theater, performed in Annex's Smut the Bottle, and featured in Reboot Theater's fundraising telethon. They are absurd, silly, dancey, musical, and a little bit raunchy.
---
Not Oasis
Friday, 9/28 | 7:00pm
Saturday, 9/29 | 8:30pm
Not Oasis is a seven person sketch comedy troupe from Toronto. Not Oasis has performed at the SheDot Festival, Chicago Sketchfest (voted nicest troupe!) The John Candy Box Series at The Second City Training Centre, the Toronto Fringe Festival, where their sold-out sketch revue "Alone in This Together" won Patron's Pick and a NOW Magazine Critic's Pick and the Ottawa Fringe Festival, where Capital Critics Circle called it, "Uproarious…" Not Oasis is King Chiu, Katherine Fogler, Jennifer Ashleigh Lloyd, Anne McMaster, Chris O'Neill, Nico Rice, and Shohana Sharmin. Like Blur, we're Not Oasis.
"Feels like a Second City mainstage revue…Poignant, fresh, smoothly orchestrated and laugh-out-loud funny. – NNNN" – NOW Magazine
"…genius…" "…laugh out loud…" "This show is what Toronto comedy fans…have been waiting for." – Mooney on Theatre
"Lots of emerging talent." – Glenn Sumi
---
Pure & Weary
Friday, 9/28 | 8:30pm
Katherine Biskupic and Leah Frires make up Pure & Weary, a sketch comedy duo based in Los Angeles via Chicago, their first love. Trained at The Second City and The Annoyance Theatre, Pure & Weary have performed at the Chicago Sketch Comedy Festival, the Dallas Comedy Festival, the Crossroads Comedy Festival, the New Movement Theatre-NOLA, the Big-Little Comedy fest, Philly Sketchfest and the NYC Sketch Fest. Their videos have been featured on UPROXX, Chicago Now, Comediva, Funny Women, Girl Talk HQ, WhoHaHa, USA Today, Chicago Hustles Magazine and the iO Comedy Network. Their pilot, "Title IX" was a semifinalist for the Second City Original Sitcom Contest.
---
Sleepover
Friday, 9/21 | 7:00pm
Saturday, 9/22 | 7:00pm
Alex Blackstone, Justina Kolb, and Kristopher Gray met in 2015 at Seattle's Jet City Improv. The three became fast friends based on their shared love of early-90s Canadian sketch comedy and New York-based, three-piece, punk-rock-turned-hip-hop musical acts. Sleepover has produced several full-length sketch shows at Seattle's Pocket Theater and performed at SketchFest Seattle in 2016 and 2017, and Portland SketchFest in 2018.
---
Smat! is your least favorite comedy show. Festival audiences have said of their work: "We were all disgusted and frankly bored with the juvenile and puerile performance." Smat! has spread their filth to Chicago Sketchfest, Montreal Sketchfest, Portland Sketchfest, and Seattle SketchFest. Boo them, embrace them, run them out of town – but never, ever be neutral.
---
Sober Virgin
Saturday, 9/22 | 8:30pm
Sober Virgin is Elena Martinez and Anthony Householder. They have been writing and performing sketch together for the last half decade after meeting in an improv class. They relish in taking real life experiences and looking at them through the lens of absurdity.
---
Your Cousins
Friday, 9/21 | 8:30pm
Your Cousins are a Seattle based sketch comedy group who may or may not all live together in a big house, sitcom style. They are not your family but they are Your Cousins.They have performed at Seattle SketchFest and New York Sketchfest and their videos as a group have gained nearly 2 million views on YouTube.
---