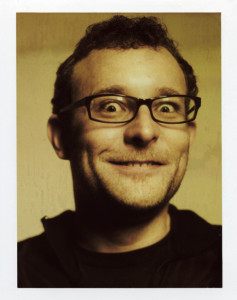 You might think we're content to sit back and relax, basking in the glow of another amazing SketchFest performance packed with awesome people like yourself – and seriously, thank you guys a million times over for all your support and enthusiasm!
But we're not ready to go on vacation just yet! In fact we've had such an awesome amount of interest in sketch comedy at this year's festival that we're offering up a workshop for you to learn the tricks of the trade from James Adomian this Sunday, October 5 at 12p!
If you don't know James, you haven't been paying attention. He was a finalist in 2010's Last Comic Standing and his 2012 comedy album LOW HANGIN FRUIT was hailed as one of the year's best. He's toured the world performing at festivals, clubs, political events, and living room parties. He's a regular on shows like Children's Hospital and the  COMEDY BANG! BANG! podcast. The New York Times once called him "jaunty but not aggressive." How much more glowing a review can one guy get?
James is bringing his amazing character work and comedy insights to help sketch comedians like YOU take the next step in being awesome. Whether you're a seasoned writer/performer looking to up your game or you're a total newbie trying to figure out just how to do this sort of thing, this is one workshop you don't want to miss.
It all goes down Sunday, October 5, from 12-3p. If you'd like to take the workshop, email Education (at) SketchFest.org today!