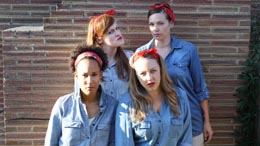 1. Take four comedic types.
2. Lock them in a room together.
3. Force them to write, edit, and rehearse until they either crank out a hilarious sketch comedy show or murder one another.
That's the winning formula! Day Job arose in April of THIS YEAR as part of SketchFest Artistic Director Clayton Weller's annual sketch summit, and no one can argue with the results. Molly Tellers, Caitie Auld, Kara O'Connor, and Nicole Santora took the scene by storm with uproarious success and have been cutting their comedy teeth in and around Seattle since then.
Despite their denim uniforms and headbands, Day Job bring an amazing energy to the stage that's anything but workman-like. Between topics like time travel, pigeon theatre, and mass-murderer first dates it's impossible to know where Day Job's taking you next. We're just excited to be along for the ride.
Come watch Day Job HEADLINE this year's SketchFest along with LA darlings The Intecollectuals on Saturday, September 27, 9:30p at The Annex Theatre!
You can also catch a special Day Job performance at the SketchFest PreFunc show: September 18, 8p at The Pocket Theater!