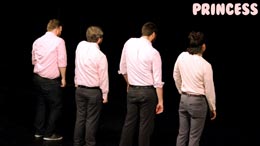 In 2013 four friends came together to perform sketch comedy for a world that hates and fears them. Then one of them moved to New York and his pal from college took his place. Princess has quickly taken the mantle as Seattle's most consistently pink-shirted sketch comedy group.
Dan Hart, Glen Yoshioka, Josh Bornstein, and Randall Cleveland mix influences like silent movies, dance numbers, counterculture and their own filthy thoughts into whirling dervishes of shows that have charmed audiences in Seattle. They even managed to scam their way into Bumbershoot last year, and now they've infiltrated the ranks of SketchFest.
Princess was the first experiment by SketchFest's own Clayton Weller to throw four funny friends together and see if comedy would erupt. Since then the group has made audiences laugh, cry, and occasionally shriek at their local showcases. Princess brings their power-packed set to SketchFest with their new favorite Winnipeg-based sketch pals Hot Thespian Action on Friday, September 26, 9:30p at The Annex Theatre!
You can also check out a special Princess performance featuring ALL NEW material September 19, 8:30p at The Pocket Theater!