In our first ever online chat interview, we were lucky enough to learn more about the crazy kids behind Drop the Root Beer and Run; one of the Seattle's hardest working up-and-coming sketch groups to hit the scene. No matter how many cliche questions we asked, they kept at it with the enthusiasm of a group that's going places.
Check out the transcript below: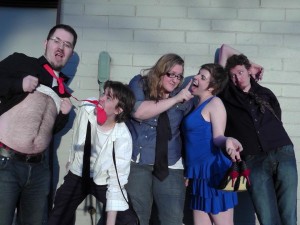 MO: Matt Olson
BF: Bayley Freeman
ZN: Zak Nelson
MH: Matt Hatfield
(Not in attendance: Caitlin Obom)
I HAVE TO ASK, HOW DID YOU GUYS MEET AND START DtRBaR, AS IT'S LOVINGLY CALLED?
MO: I saw that question coming.
BF: Super obvious.
ZN: We met at the Evergreen State College. That's where this all started.
BF: In a group called Generation Friends.
MH: We all met via the college. We all went to Evergreen and were a part of the sketch/improv group Generation Friends.
MO: Let's answer every question the same in 4 different ways.
HOW WOULD YOU DESCRIBE YOUR COMEDIC STYLE?
MH: Dark Whimsy.
ZN: Yep.
MH: Only two words you really need there.
MO: That's a term we've always used to describe it, I don't know if it still applies as strongly as it used to.
BF: Pretty much.
MO: All of my sketches are people yelling at each other usually.
BF: We're still pretty freaking weird.
MH: I always aim to be as weird as possible.
DO YOU THINK THAT'S PART OF YOUR APPEAL?
BF: Never too much.
MO: I think we're more silly than weird, but that's just me.
MO: Appeal?
MH: If that isn't, nothing is.
ZN: Maybe, I don't really understand the concept of appeal.
ZN: I just want to be friends.
MO: I think they just like us for our bodies.
BF: Yea, we just want to be friends with everyone!
(At this point, we briefly lost connection with Bayley. Technology.)
ZN: Baylie fell in a Gcal hole.
ZN: It's okay she got back up.
BF: But I climbed out for what it's worth.
MO: Does that answer your question?
BF: Okay, super focused.
ZN: Appeal.
I THINK A LOT OF PEOPLE WOULD LOVE TO BE FRIENDS WITH YOU GUYS. DO YOU THINK THAT COMEDY IS LESS ABOUT APPEALING TO THE AUDIENCE AND MORE ABOUT AN AUTHENTIC EXPERIENCE? OR IS IT SOMETHING ALTOGETHER DIFFERENT…
MO: We're all thinking very hard about this question.
BF: I'm leaning toward the altogether different part more.
BF: Nothing wrong with that.
ZN: I think comedy is basically about having fun, between group members and the audience.
MH: It's all pretty important, you want to give them something they haven't seen before and you want to make them happy in the process; at least that's what it is for me.
BF: But making ourselves happy is important too. We just like to perform stuff that appeals to us.
I LIKE THAT. SO YOU PROBABLY KNEW THIS ONE WAS COMING: LOTS OF GROUPS HAVE WILD NAMES, BUT YOURS IS PRETTY UNIQUE. HOW DID THAT COME ABOUT?
ZN: Get ready.
ZN: Here.
ZN: It.
ZN: Comes.
ZN: Soon.
ZN: Maybe?
MO: Cut it out, Zak.
BF: Zak's stacking up too much pressure.
MH: Stack.
BF: Hatfield's gonna blow!
MH: So when I started the group along with Corbin Smith, who is no longer in the group, he came up with the name while watching Mad Man, apparently there's a scene where a kid has a bottle of root beer that he drops and then runs.
ZN: Ahem. Mad Men.
MH: At first I thought the name was a little anti-Root Beer so we were Root Beer Harvest for a bit, but DTRBAR had a better ring to it.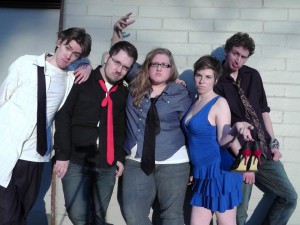 WHAT IS THE STRANGEST PLACE YOU'VE PERFORMED – INDIVIDUALLY OR AS A GROUP?
MO: We're used to performing in bars, which is not a great improv venue.
MH: This isn't so much a place… but we once did an improv set for only my parents… that was pretty awkward.
MO: In the Generation Friends days we did a show in a bar and had to warm up in the adjoining hair salon because we were underage, and had the police called on us by the crazy, drunk owners.
ZN: We also once did a sketch set only for my family. And a family friend.
BF: The last rehearsal for our most recent show resulted in me hitting my head on a chair leg because it's stupid to do physical comedy in tiny kitchens.
ZN: Also the band we were opening for at that bar ended up tuning up behind us, BEFORE we were done with our improv set.
MO: I did an improv show in a backyard, opening for jugglers once.
HOW DO YOU FEEL ABOUT IMPROV AND SKETCH COMING TOGETHER? DO YOU THINK ONE LEADS TO THE OTHER, LIKE A GATEWAY DRUG?
MO: They should, but sadly that's not always the case.
WHY'S THAT?
BF: Not for me, improv's never really been my bag but I will say that certain elements of one are useful in the other.
BF: …Is one of them so you can pick up a scene in case you fumble in sketch?
BF: I've read enough about improv and done a little and it does help me a bit.
MH: I did improv first, and found sketch much later. Occasionally we'll get a sketch idea from an improv scene, but that doesn't happen too often.
ZN: If you're willing to go over an improv scene a bunch of times until its perfect, then melding the two together can be better. Personally writing whatever comes into one's head has always worked for me. I think that both complement each other, and there are elements of one in the other.
MO: I think knowing how to do improv makes writing sketch much, much easier. I would not know how to write sketch comedy without using improv techniques.
MH: Game theory applies to both, so once you've gotten that down in one you're good in the other.
ZN: Yes, I think having both in your bag of tricks is great. If for nothing else, when you mess up a line you can cover it up and no one will be the wiser.
MO: To answer you're other question, I really don't know why there's not more fluidity between the improv and sketch scenes than there is, especially in Seattle.
BF: I started in traditional acting so sketch comes easier but I'm glad I studied improv. I think it makes for a stronger performer in many situations. It also develops your versatility and confidence.
MH: We've changed chunks of sketches spontaneously during a show a few times, and that's always fun.
ZN: Yeah, sometimes ad-libbing for the last night of a show can be fun.
ZN: My whole outlook to that has kind of changed though recently. Kevin McDonald did a workshop here in Seattle that I got to attend and he basically showed you how to turn improv into sketch.
MO: Goddamn name-dropper.
ZN: I will not drop Kevin McDonald's name ever…I'm going to hold it close to my chest and let it keep me warm at night.
WHAT IS THE BEST PART OF WORKING IN A LARGE GROUP? WHAT THINGS SHOULD NEW TROUPES WATCH OUT FOR?
MO: Scheduling between 4 or 5 people is a big problem.
ZN: Lots of ideas happen in a large group.
MO: Especially as some of us work nights and some of us work days.
MO: We can never meet as much as we want/need to.
MH: Best part is all the voices that are contributing at different angles, we all see things when writing that others might not see.
ZN: The writing is much faster because you have lot's more sketches coming in.
BF: Well we've been such good friends for so long the ideas just flow out effortlessly it seems.
MO: Everybody in the group is also great at picking up production roles.
BF: It's also good for developing chemistry on stage because we're so comfortable, really anything goes.
MO: All the scheduling, logistics, and tech stuff doesn't get tossed on one or two people, because we've all been producing shows long enough that any one of us could pick up pretty much any task and get it done. It makes us a lot more efficient.
BF: And we can trust each other to be really critical when we need it.
WELL, I CAN TELL YOU GUYS HAVE A PRETTY GREAT RELATIONSHIP AND THAT IS SUPER IMPORTANT. ON THAT NOTE, NO MATTER WHO'S TO BLAME, WHAT IS YOUR FAVORITE SKETCH YOU'VE PERFORMED? WHAT IS YOUR LEAST FAVORITE? WHY?
MO: Tough one.
ZN: Wow, here come some hurt feelings.
BF: Also, this could take a while.
MH: I'm a pretty big fan of performing Carrying Monologue, because the audience always eats that one up.
ZN: I'm a pretty big fan of you performing Carrying Monologue, too.
MO: My favorite to perform is called Parrot Fell Detective. It's not our most popular sketch by a long shot, but it's pretty much just for me. It's just so much fun to do.
MH: Also "All Aboard" because I basically just get to be adorable.
MO: Yes.
MH: Yes.
BF: The salmon sketch between Olson and me, because it is so ridiculous and such a fun build.
MO: Carrying Monologue might be my favorite sketch to watch though.
ZN: My favorite sketch to perform is probably a new one called Emergency Broadcast.
ZN: I really (for some reason) like roles that are non-speaking.
ZN: Least favorite one I've performed is probably one we did called Protest.
ZN: I liked the idea, but Olson never liked it period. We still made him put it in the show.
HERE'S A REALLY BIG ONE….WHAT IS SO IMPORTANT ABOUT SKETCH COMEDY?
MO: What else is there?
MO: To me, sketch comedy has more potential than any other form of narrative, to really go anywhere, really quickly.
WHY?
MO: I mean, you could have a short scene with jokes in it, that isn't a comedy sketch.
MH: To me it's important to take the time to approach whatever you're writing at an angle you think is new, and to keep working at it until you have the moment of "YES!" "THIS IS A NEAT THING."
ZN: I think sketch comedy is really good at turning negative ideas, thoughts, or feelings and being able to hold them up for us to laugh at. Thereby making them positive.
MH: Surprise. Surprise is so important.
MO: Sketch comedy is all about patterns, games being played, ideas taken to impossibly high conclusions, and it makes it really easy to get away with writing the stupidest ideas you've ever had in your life and make them seem credible.
BF: For me it's all about showing people something they've never seen before and taking them somewhere they never expected. I don't write so for me it's all about jerking them out of their seats with your energy.
ZN: Sketch comedy is like playing jazz with a ruler, artistic, but mathematical at the same time.
MO: That's beautiful, Zak.
MH: Good use of words.
BF: also it is amazing to me that these guys can come up with new things all that time despite the magnitude of material already out there.
ZN: There's never an end to the possibilities.
Don't miss Drop the Root Beer and Run at SketchFest on Friday 10/5 at 7pm as the open for NYC group Missing Earl! Also, like them on Facebook or follow their Tumblr for the latest news on their full-length show to come in early 2013!
Get a little taste of the Root Beer right here from last weekend's SketchFest Local Showcase: