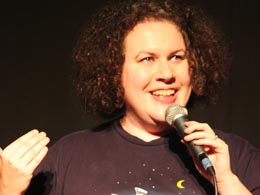 SketchFest isn't just about sketch comedy, y'know. We like to make it a celebration of everything that cracks us up, which is why we bring in our favorite stand-up comedians to kick off every festival show. Stand-up comedians like Andie Main:
Hailing from our comedy neighbor to the south, Portland, Andie has made a name for herself with Picture This, a show in which artists illustrate jokes as comedians tell them. The art-comedy connection is nothing new for her, and it's one of the reasons she was the original illustrator for the amazing podcast Professor Blastoff.
When she's not illustrating, she's taking her caustic, cynical joy on stage in front of audiences at places like Helium Comedy Club, Curious Comedy Theater, Bumbershoot, and the All Jane No Dick Festival. She's rubbed elbows with and opened for the likes of David Huntsberger, TJ Miller, and Jackie Kashian and she's a regular contributor to The Portland Mercury.
Check out Andie's acerbic wit this Saturday, September 27, at 7p. Get your tickets now!