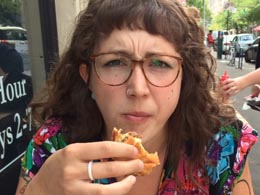 SketchFest isn't just about sketch comedy, y'know. We like to make it a celebration of everything that cracks us up, which is why we bring in our favorite stand-up comedians to kick off every festival show. Comedians like Erin Ingle!
Erin is relatively new to the Seattle stand-up scene, but she's a veteran feminist stoner goofball so she's acclimated pretty quickly. Since migrating North from Oregon she's cut her teeth at venues like Comedy on Trial, Beard Practice, and she's popped up on the podcast circuit with turns on shows like JellyStick Extravaganza. Come delight in Erin's half-baked-but-verbose attempts at righting the world's wrongs through tightly-monitored group-giggling.
One night only! Friday, September 26, at 9:30p. Get your tickets now!