SketchFest Seattle is a 501(c)3 non-profit organization dedicated to supporting and producing diverse, inclusive sketch comedy performers and shows. All donations are tax deductible.
You can donate directly to SketchFest Seattle in any amount you choose by clicking the button below. Donations apply towards paying for venue rentals, catering, and performer stipends at our festival shows. We're staffed by volunteers, so every dollar you contribute goes directly towards supporting sketch comedians. We appreciate your support!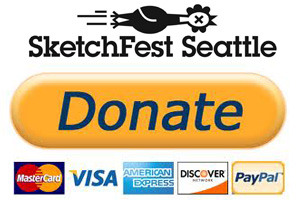 For information on sponsorship tiers and advertising opportunities with SketchFest Seattle, email us!