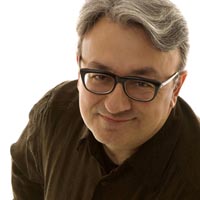 Randy Dixon
Randy Dixon is regarded as one of the most experienced improvisational artists in the Northwest. He is a writer, director and an actor who has appeared in film, television and on local stages. He is a founding member & Artistic Director of Unexpected Productions & the international performance group, Orcas Island Project. Randy has taught improvisational theater and acting all over the world. His book, Being Present has been published in Germany & Slovenia.
---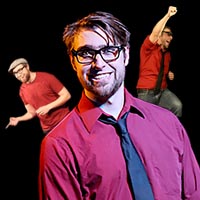 Clayton Weller
Clayton Weller has been performing, producing and teaching comedy/theater for over 15 years. He's been doing it as his full time job for 3 years. He's the Founder of the Pocket Theater, is part of Ubiquitous They Comedy, and was the Artistic director of SketchFest Seattle for 5 years. He takes this funny business very seriously.
---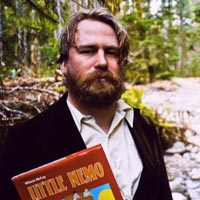 Emmett Montgomery
Born in Utah, based in Seattle, Emmett Montgomery is a storyteller, comedian and artist who first found the stand-up stage in 2004 and has been failing beautiful ever since. Emmett has been involved in a lot of things including critically acclaimed comedy collectives, post apocalyptic variety shows, underground wrestling leagues and family friendly comedy nights in pizza restaurants. Mr. Montgomery has been featured in the film "Seattle Komedy Documentary", the coffee table book "Seattle 100: a portrait of a city" and multiple festivals including Bumbershoot and the Bridgetown Comedy and Sasquatch festivals. In addition to wandering the country telling jokes he currently curates and hosts a love letter to Seattle in the form of variety show/sharing party entitled "Weird and Awesome with Emmett Montgomery" at the beloved Annex Theatre and is a member of the Seattle chapter of the Bushwick Book Club, a collection of musicians and artists that create and perform original works based on literary sources. Emmett lives with his beautiful wife and hideous cat in a refurbished motel built specifically for the 1962 Seattle Worlds Fair and enjoys making puppets.
---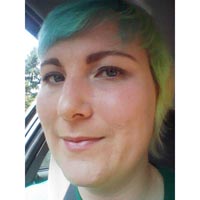 Sonja Furney
Sonja Furney has had the pleasure of volunteering for SketchFest in any capacity they've let her since SketchFest 2011, and has since tried her hand, ever so slightly, at sketch performance and writing. She is also a low-voltage electrical apprentice and member in good standing with the International Brotherhood of Electrical Workers Local 46, a dog-lover, and a science-fiction enthusiast. Used paperback books are her greatest weakness, and the ability to describe people in terms of what breed of dog they would be is her greatest talent.
---
Kate Montgomery
As a rabid supporter of Seattle's performance scene, Kate Montgomery has set up more chairs and sat through more comedy shows than most people would care to. She has been with SketchFest™ since 2009. When not being one of Seattle's favorite audience members, she works at a very grownup job and spends time with her overly facial-haired husband and her 20 lb. cat.
kate@sketchfest.org
---
Edward Tonai