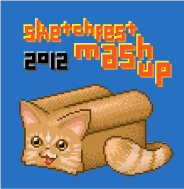 When two good things come together they can create something great but when many great things come together they can generate one glorious abomination of awesome…
Welcome to the MASHENNING!
Sketchfest's Mash-Up 2012 is here so get ready to experience the talents of some of Seattle's best and bravest writers, performers, and generally hilarious punch-line purveyors as they create an entire sketch comedy show from thin air in only 48 hours.
Want to join in the fun and tom-foolery? This is  how it goes down:
FRIDAY 3/30 7pm: PITCHSTORM
All participants will meet-up at a super-secret (not actually) location to pitch ideas, potentially drinking, and prepare for the hours of writing to come.
SATURDAY 3/31: COLD READS
An all day extravaganza wherein sketches are read, roles are doled, edits are edited and the possibility of further drinking may occur. Be ready to start around 10:30 because who would seriously wake-up any earlier on a Saturday?
SUNDAY 4/1: REHEARSE AND PERFORM (on APRIL FOOL'S DAY!)
Rehearse in the afternoon followed by the performance (huzzah!) at 5:00pm at Wing-It Theater. Celebratory drinking and sighs of relief to commence post performance.
Registration fee is $25 per person. If you just want to laugh without all that messy work business, simply attend as an audience member! A donation of $5 is suggested, but gold, rubies or first born children are an acceptable – if outdated – alternative.
Think you have what it takes? Of course you do, but can you click a mouse button? Register here or get more info. Let the hilarity ensue…