2011 Festival
---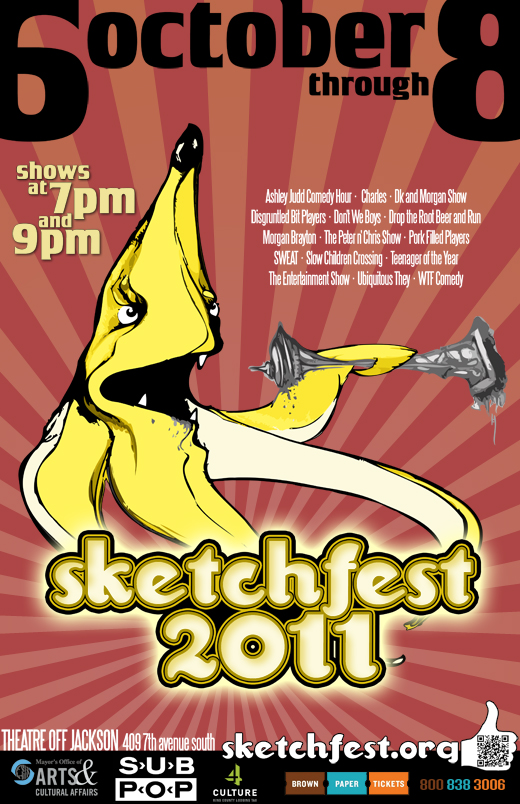 SketchFest Seattle
2011 Festival
October 6-8 @ Theatre Off Jackson
409 7th Ave South
(in Seattle's International District)
Tickets: $15.00 General Admission
$10.00 with valid student ID
---
Schedule
Thursday, October 6th

---

7pm

•Comedy Film Festival
•Drop the Root Beer and Run
•The DK and Morgan Show
•WTF
•The Ashley Judd Comedy Hour
•Ubiquitous They
•Pork Filled Players
•The Entertainment Show
•Charles
•Disgruntled Bit Players

Friday, October 7th

---

7pm

•Barbara Holm
•Drop the Root Beer and Run
•The DK and Morgan Show
•SWEAT
•The Peter 'n' Chris Show

---

9pm

•Emmett Montgomery
•WTF
•Charles
•Don't We Boys

Saturday, October 8th

---

7pm

•Brian Boshes
•The Ashley Judd Comedy Hour
•Ubiquitous They
•Morgan Brayton
•Teenager of the Year

---

9pm

•Danielle Radford
•Pork Filled Players
•The Entertainment Show
•Slow Children Crossing
---
Performer Bios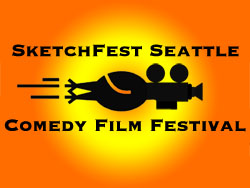 Comedy Film Festival
Thursday, October 6th – 7pm
Presenting the best in short comedy films from around the country, the 4th Annual SketchFest Comedy Film Festival kicks off our 2011 Festival with a bang and a whirr. We are accepting submissions until Monday, September 12. Check out the submissions page for details!
---
Local Sketch Showcase
Thursday, October 6th – 7pm
SketchFest's Opening Night Gala continues with a local sketch showcase, featuring Seattle-area groups from the festival giving you a taste of how great Seattle sketch comedy is – with special guests Disgruntled Bit Players, back again after 10 years.
---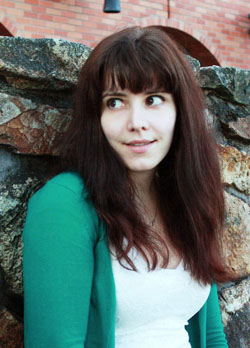 Barbara Holm – Stand-Up
Friday, October 7th – 7pm
Barbara Holm is a funny comedian who has performed at the Women in Comedy Festival, Bumbershoot, and Bridgetown Comedy Festival.
http://barbaraholm.blogspot.com/
---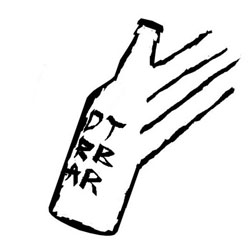 Drop The Root Beer And Run (Seattle)
Friday, October 7th – 7pm
Drop The Root Beer And Run began as a dive bar improv troupe in Olympia, Washington. They now operate out of Seattle, providing the community with fair trade, locally grown, organic sketch and improv comedy on a regular basis. Their comedy is a full on, absurdist sensory overload (except for touch and smell). So, drop the root beer and run home to tell your momma about Drop The Root Beer And Run! (We don't feel good about that.)
Facebook
---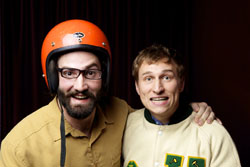 The DK And Morgan Show (Bellingham)
Friday, October 7th – 7pm
This sketch, improv, and stand-up duo from the wilds of the far Northwest throw nothing but curveballs. Mustering myriad styles, far-ranging premises, and immeasurable amounts of charisma, they will charm your socks off, and then they will knock your socks off. Bottom line: Wear three pairs of socks.
---
Sweat (Portland)
Friday, October 7th – 7pm
Sweat formed in 2010 when five comedy veterans with backgrounds in sketch, improv, radio, film and theater joined forces to create what has been hailed as Portland, Oregon's sketch comedy "supergroup" (Portland Mercury). Since forming one year ago, Sweat has performed to sold out crowds in Portland as well as at the 2011 Chicago and San Francisco Sketch Festivals. They look forward to meeting you.
---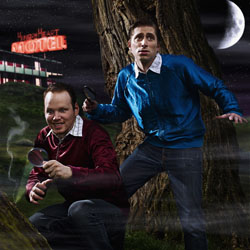 The Peter 'n' Chris Show (Vancouver, B.C.)
Friday, October 7th – 7pm
Peter n Chris are a critically acclaimed Canadian comedy duo from Vancouver BC. They create highly physical and hilarious comedy that sends everyday life up to absurd heights and "pushes comic theatre to its limits". Often compared to Flight of the Conchords, The two have toured the Canadian Fringe circuit for the last three ears earning rave reviews, a Just For Laughs- Best Comedy nomination in the 2011 Montreal Fringe Festival, Best Duo Performance-Ottawa Fringe 2010, Critic's Pick – Now Magazine Toronto, Eye Weekly's "top five troupes to see" in 2010 Toronto SketchFest.
---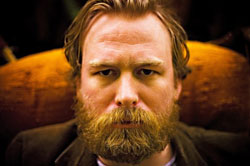 Emmett Montgomery – Stand-Up
Friday, October 7th – 9pm
Teller of jokes, maker of things.
---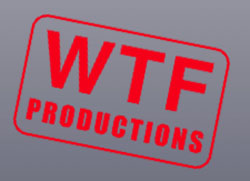 WTF (Seattle)
Friday, October 7th – 9pm
WTF Comedy is fully prepared to rock your socks off. Do you have socks? They will be off. Do you want socks? I don't think so.
sketchyimprov.com
---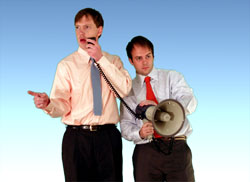 Charles (Seattle)
Friday, October 7th – 9pm
Chuck and Charlie will batter you with wit and intellect. So much intellect. The good kind, though, not the annoying kind.
Same with the wit.
seattleuntimely.com
---
Don't We Boys (Grand Rapids)
Friday, October 7th – 9pm
Imagine The Hardy Boys hosting SNL. Danger veterans Joe "Foot-in-the-Grave" Anderson, Dave "Bloody Mess" Lyzenga, and Matt "Safety First" Sterenberg will be performing sketch comedy the only way they know how: with a foot in the grave.
dontweboys.com
---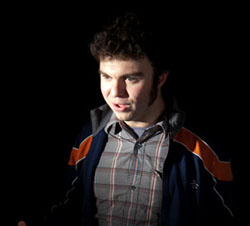 Brian Boshes – Stand Up
Saturday, October 8th – 7pm
Brian Boshes knows too much about how things really work to ever be an optimist.
brianboshes.com
---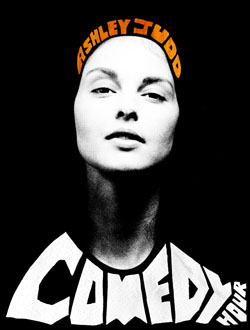 The Ashley Judd Comedy Hour (Seattle)
Saturday, October 8th – 7pm
The Ashley Judd Comedy Hour was founded as a community outreach program encouraging troubled youth to participate in the arts.
Facebook
---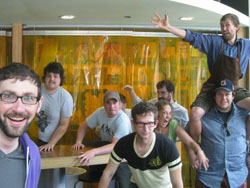 Ubiquitous They (Seattle)
Saturday, October 8th – 7pm
As the offspring of a robot and a super-intelligent woman from the future, Ubiquitous They wants to ask you one question?
ubiquitousthey.com
---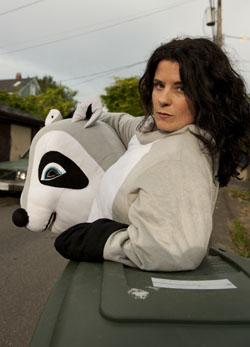 Morgan Brayton (Vancouver, B.C.)
Saturday, October 8th – 7pm
A moth in love. A hard-partying high school valedictorian. An aging vaudevillian with a scandalous secret. Each character a little bit nuttier, a little less well adjusted, and a little more lovable than the last. Add a bunch of catchy original songs and you've got Canadian Morgan Brayton's solo sketch show Raccoonery! Filled with "a cast of characters that you wish wouldn't leave once the lights fade", Raccoonery! is "intelligent, cutting comic character work with a political undercurrent" and "a fine example of why Brayton is celebrated as one of the city's, if not the country's, top comediennes".
morganbrayton.com
---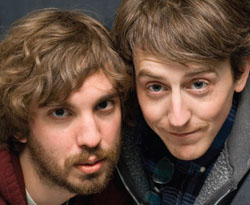 Teenager Of The Year (Chicago)
Saturday, October 8th – 7pm
Teenager of the Year is the best in the world. Better than everyone. Waaay better. In every category. Best comedy group, band, sports team, restaurant, car wash, etc., etc., et cetera. Doesn't matter, bro. They are the best EVERYTHING. They've totally blown minds at Just For Laughs Chicago, the San Francisco Sketchfest and the Traverse City Comedy Fest, had short films totally kill at SXSW, and totally defeated everyone in an Atom.com comedy video competition of some sort. So, there. Also, who cares? The end.
Facebook
---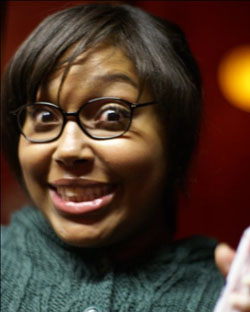 Danielle Radford – Stand Up
Saturday, October 8th – 9pm
Danielle Radford was an honor student throughout her school days. So the fact that she didn't finish college, doesn't have a driver's license, and can't hold down a job is just as much of a surprise to her as it is for everyone else. An adept storyteller, Danielle feels very strongly about stuff sometimes. Naturally uninhibited and easily distracted, she is like some kind of crazy candy that is both sweet AND tart. We can't say the name here, but yeah. That one. Danielle has performed at Bumbershoot and the Bridgetown Comedy Festival.
---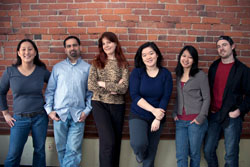 Pork Filled Players (Seattle)
Saturday, October 8th – 9pm
Scientists, journalists, teachers, and office workers by day…by night, we are the Pork Filled Players! Since 1997, PFP has been on a mission to unleash our nerdish funny bones on audiences of every race, creed, and gender across the Pacific Northwest. As Seattle's longest-running sketch comedy group, PFP continues to redefine Asian American comedy with our unique brand of geek humor, kickass stage combat, and even more kickass leadership of female sketch writers and performers.
porkfilled.com
---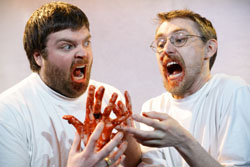 The Entertainment Show (Seattle)
Saturday, October 8th – 9pm
The greatest comedy duo in the history of everything.
Facebook
---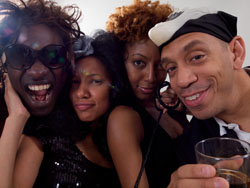 Slow Children Crossing (Los Angeles)
Saturday, October 8th – 9pm
Slow Children Crossing is armed with today's landscape of intoxicated celebrities, vulnerable regimes, and reality show madness. "Robotic Chocolate", their newest show, sets the comedic roller coaster in motion with a healthy dose of life. Mixing multi-media with live sketches and live musical acts, the group creates a party-like atmosphere as they lampoon everyone from Qaddafi to the President. Consisting of two men, three women, and an assortment of guest players, they bring a new voice to the sketch world with their slightly crooked perspective. Picture this: naked animals, midgets, dancing nuns, parties at Charlie Sheen's house– scratch that. Just picture a party at Charlie Sheen's house and that covers it all! These hip comedians go for broke in this 60 minute fun-filled set. They bet the world with the roll of the dice and are sure to come up………need I say it?……..NO, but it feels so good, I can't resist…………..WINNING
slowchildrenxing.com
---