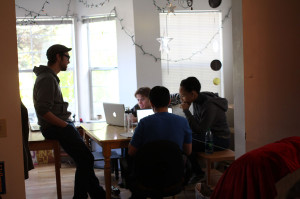 The SketchFest Mashup is a workshop-type event for people who are looking to have fun, create new and exciting things, and get more involved in the sketch comedy community.
Basically, we round up a group of strangers and write, edit, rehearse, and ultimately perform a brand new sketch comedy show over the course of a weekend.
Anyone can do it – if you're an actor, improviser, comedian, or writer looking to try out sketch comedy, the Mashup is a great way to get into it. If you're a sketch comedian just looking to work with some new folks and try something crazy, this is the place! And if you've never been on a stage in your life and you're totally not funny, but you are adventurous and want to experience something amazing and different – well, you sound perfect!
The time commitments are roughly: 7 – 9:30 PM Friday, 10 AM – 4 PM Saturday, and 11 AM – 5:30 PM on Sunday. The next Mashup weekend date will be announced soon.
The tuition for the event is $30 – which covers rehearsal and performance spaces, as well as 2 meals. If you're interested, please email dan@sketchfest.org for more information.