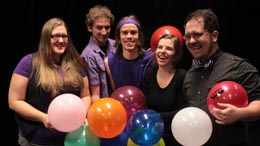 Performers often talk about developing a "groupmind," where everyone in the show is in sync with one another and can anticipate their scene partners' next move just from sheer familiarity. That familiarity with one another makes Drop the Root Beer and Run sharp, smart, and incredibly fun to watch.
Forged in the comedic fires of Evergreen State University, Baylie Freeman, Caitlin Obom, Matt Hatfield, Matt Olson, and Zak Nelson came together to form an improv/sketch amalgamation that quickly grew to consume them all. DTRBAR shows are marked by a sense of wide-eyed innocence that masks a really subversive bent in their sketches. The thing that comes across most of all is that these guys are a big family, and they're writing comedy to crack each other up.
We're just along for the ride, and that's a big win for Seattle comedy audiences.
Check out Drop the Root Beer and Run's special guest performance at the Comedy Film Challenge, September 20, 7p at Central Cinema!
You can also catch a special performance at the SketchFest PreFunc show: September 18, 8p at The Pocket Theater!