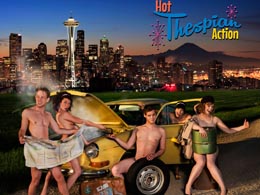 Little-known fact: sketch comedy is Canada's number three export behind maple syrup and hockey sticks. It makes sense when you think about it; those cold winters give you a lot of time to try and keep yourself entertained and really refine your craft. That's why we're so pumped to introduce Hot Thespian Action, who are making the trip all the way from Winnipeg for THEIR FIRST SHOW IN THE STATES!
Hot Thespian Action prefer to use their bodies and physicality in scenes as opposed to crazy wigs and props. The result is a rapid fire set of sketches curated from a list of over 150 audience-tested-and-approved options.
That must be why they've been touring all over Canada to sold out venues for eight(!) years and have received two Canadian Comedy Award nominations for Best Sketch Comedy Troupe in Canada. If you like your comedy smart, snappy, and sassy then you need to check out Hot Thespian Action, playing alongside Seattle's pink-clad Princess at SketchFest.
One night only: Friday, September 26, 9:30p at The Annex Theater.