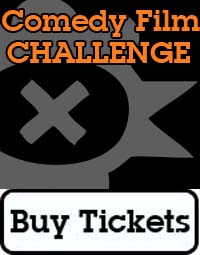 We're hellbent on packing your day with as much comedy as possible as we careen towards SketchFest — happening 9/26 and 9/27 at The Annex Theatre, unbelievably funny, nationally touring acts, get your tickets now, you know the drill. But Saturday, September 20 @ 7p, something as near and dear to our hearts is happening: the 7th Annual Comedy Film Challenge!
Once again our own Ben Laurance is producing a mini-festival of his own showcasing the best in short independent comedy films from Seattle and around the nation. You'll get to kick back at Central Cinema, enjoy the beverage of your choice and maybe some grub, and watch the most hilarious videos on offer.
Plus you'll get a special intermission performance from sketch stars Drop the Root Beer and Run! You'll get to cast your vote for the winner of the Audience Award, and while you're there you'll rub elbows and whatever other appendages you can manage with special celebrity judges Emmett Montgomery, Alycia Delmore, and Charles Mudede.
Eat! Drink! Laugh! Just try not to do all three at once.