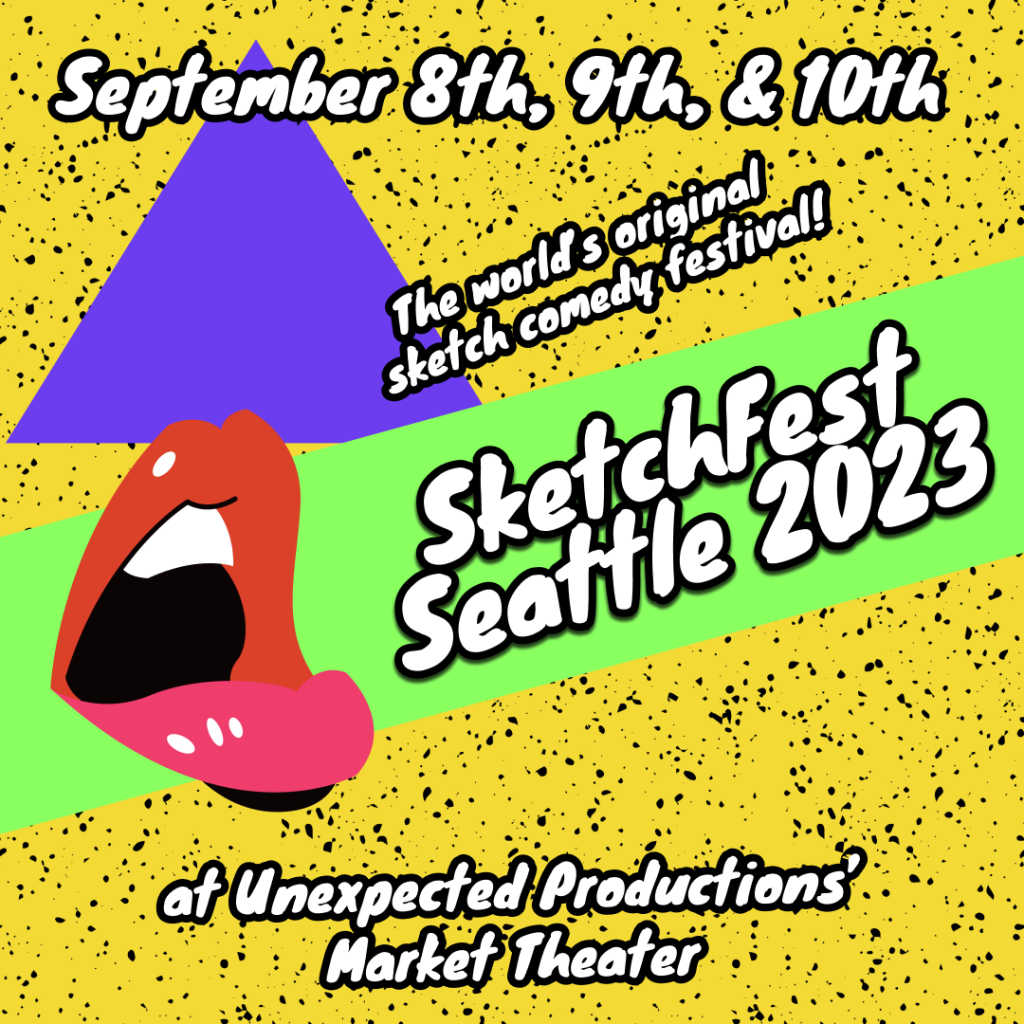 SketchFest Seattle, the world's original Sketch Comedy festival, is bringing the freshest, most inventive sketch comedy acts to Unexpected Productions Market Theater in Pike Place Market for the 24th year! From September 8 through 10, laugh-loving audiences have seven opportunities to experience the best of what top North American sketch comedy writers and performers are creating in Chicago, Los Angeles, New York City, Toronto and right here at home in Seattle.
Single show tickets are $15 each, or you can buy a SketchFest Seattle Weekend Pass and see every show of the festival for only $50. Tickets and passes can be purchased by clicking here!
WHAT: 3 hilarious nights of sketch comedy featuring top North American acts
WHEN: September 8 – 10, 2023
WHERE: Unexpected Productions' Market Theater, 1428 Post Alley, Seattle
TICKETS: $15-$50 Press comps available. Contact info@sketchfest.org.
2023 Festival Performances

Friday, September 8th
7pm: Maple Daddies (Seattle, WA), Cam Wyllie (Toronto, ON)
9pm: Responsible Adults (Seattle, WA), Brick Penguin (Washington DC)
Saturday, September 9th
5pm: Jeffrey Nickels (Seattle, WA), Pure and Weary (Los Angeles, CA)
7pm: Pointless Appliance (New York City, NY), Drop the Root Beer and Run (Seattle, WA)
9pm: Redacted (Los Angeles, CA), Everything's Fine Tonight LIVE! w/ Jordan (Seattle, WA)
Sunday, Sept. 10
6pm: Local Showcase featuring Seattle acts: Noble Rot, Ben Steitzer, Good Crash, Suburban Eyes, Sam Dembowski, Joy Market
830pm: Bootcup (Chicago, IL), Honey Roasted Hams (Seattle, WA)