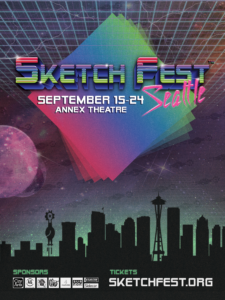 Spring is in the air! The birds are chirping, the sun is shining, and the sketch comedians are planning their annual migration to the Pacific Northwest for SketchFest 2016!
The ORIGINAL sketch comedy festival is now accepting submissions from performers around the globe to come visit the Emerald City for a weekend of laughs, fun, and friendship. Previous groups have visited from far away places like NYC, LA, Chicago, New Orleans, Edmonton, Vancouver, Austin, and more! Hit our Application Page now and submit your own group!
More of a YouTube sensation than a stage performer? Submit your videos to our Comedy Film Challenge and you could win fabulous (read: cash) prizes!
This year's festival is our biggest yet, and we want you there! Apply today and help us spread the love for the Seattle sketch scene!